A Simple Man Living in a Complex World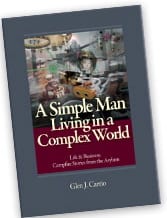 A Simple Man Living in a Complex World
By Glen J. Carrio
Buy it now at Amazon.com
A Simple Man Living in a Complex World, by Glen Carrio, president & CEO of Carrio Cabling, is part autobiography, part commentary on being an entrepreneur in today's business world. It's a book about success and failure, opportunity, and creating and maintaining a winning company.
Carrio Cabling has been designed around the principles of "lean," "cellular" manufacturing and "world-class" processes since Day 1 of the company, 31+ years ago. In A Simple Man Living in a Complex World, you'll learn how Willy Wonka and his chocolate factory, Star Trek, Jonny Quest, racing innovator Jim Hall, a book retrieved from a dumpster, and Inventor Wally Jones inspired Carrio – and can inspire you – to use your skills and know-how, and even the apparent obstacles in your path, to innovate and create.
Read
* Excerpt
Contact Us to get started on your
custom order today!